Isoprenol, also known as 3-methyl-3-butene-1-ol, is a hemiterpene alcohol that may be found in plants. It is a clear, colorless liquid that ranges from light yellow to colorless. The global demand for isoprenol is expanding as a result of its increasing use in the agrochemicals, biofuels, and medicines industries, among other things.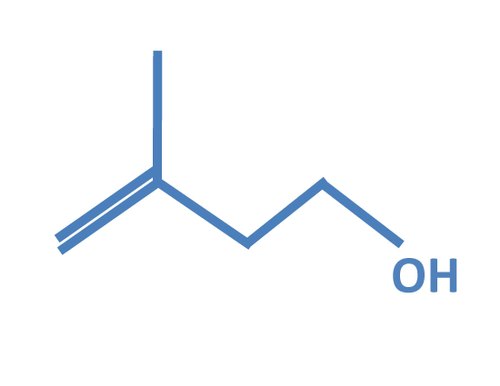 When compared to ethanol, isopentenols such as isoprenol and prenol are establishing themselves as preferable biofuels due to their higher energy density and improved combustion efficiency. In order to boost the development of biofuels, governments and other private groups are allocating an increasing amount of money.
For example, the Department of Energy's (DOE's) technology commercialization fund (TCF) awarded US$ 1 million to four Berkeley Lab projects in June 2020 to support collaborative research with industry partners in the areas of biofuels, bioproducts, energy microgrid technology, and renewable energy technology.
The project's goal was to develop cost-effective methods for producing isoprenol, a potential biologically derived aviation biofuel precursor, from sustainable lignocellulosic biomass utilizing cutting-edge technologies. As a result, increased investment in biofuel production will contribute in the growth of the industry.
Isoprenol is most commonly used in polymers, agrochemicals, fragrance chemicals, and pharmaceuticals. In the manufacturing of aromatic compounds, it is mostly used as a raw material. Isoprenol is becoming increasingly popular across a wide range of end uses on the global market due to its favorable chemical and physical properties. Isoprenol is commonly used in the production of insecticides and pesticides in the agrochemical industry. Insecticides, herbicides, and fungicides are some of the crops that benefit from the use of this environmentally beneficial molecule. Nowadays, farmers are increasingly turning to agrochemicals as a means of increasing yields while also reducing crop losses. As the agrochemicals business grows, so does the isoprenol market.
It is being studied as a potential source of antiviral medicines for Covid-19. New records have been made in terms of threatening human health and well-being by the extremely infectious virus. Companies in the worldwide isoprenol market are taking advantage of the unprecedented demand for antiviral medications and the increased attempts to keep economies moving during the epidemic of coronavirus.  As a result of supply chain disruptions, agrochemical producers throughout the world are restricting their access to Chinese wholesalers, which will have a big impact on the industry.
The Most Important Drivers
The demand for environmentally friendly agrochemicals such as herbicides and insecticides is increasing, which is driving up the price of isoprenol.
Because of the growing need for next-generation biofuels, there is a significant increase in demand for isoprenol, which is expected to continue in the future.
The market will benefit from the expansion of the application scope for isoprenol in pharmaceuticals, which will open up new growth opportunities.
Competitive Landscape
In order to compete in the isoprenol market, major competitors are focused on growing their production capacity. A wide range of initiatives, including mergers, partnerships and expansions are being used to increase production of isopreol.
To prepare for the upcoming price hike on isoprene chemical derivatives beginning on July 1, 2021, Kuraray Co. Ltd. notified the increase in June 2021. Equipment maintenance and upgrades, as well as raw material and shipping expenses, prompted the company to make the choice.
Global Isoprenol Market: Key Competitors
BASF SE
Kuraray Co. Ltd.
Amyris, Inc.
Spectrum Chemical Manufacturing Corp.
Tokyo Chemical Industry Co. Ltd.
Toronto Research Chemicals Inc.
Haihang Industry Co. Ltd.
Sure Chemical Co. Ltd.
Global Isoprenol Market: Segmentation
Application
Agrochemicals
Pharmaceuticals
Flavour & Fragrance
Polymers
Regions
North America

Latin America

Europe

East Asia

South Asia

Oceania

Middle East

 & 

Africa