With a CAGR of 9.9% between 2021 and 2028, the smart energy market is projected to rise from its 2020 valuation of USD 130.1 Billion to a total of USD 273.8 Billion.
Through the use of smart energy, we are able to lessen our reliance on coal and crude oil, two of the dirtiest fossil fuels. Fossil fuels have become a standard component of our energy infrastructure due to their widespread availability and dependability. However, their combustion releases carbon into the atmosphere, a major contributor to warming.
Increased investment in infrastructure development is anticipated to boost the adoption of advanced metering infrastructure technologies over the forecast period. There is a high demand for advanced metering devices due to their usefulness in facilitating accurate and convenient energy consumption tracking in residential, commercial, and industrial settings.
This Smart Energy market study focuses on the industry's dominant players by following their strategic moves, financial stats, and new product releases.
Some of the Top companies: S&T, A123, AES Energy Storage, GE-Alstom, Landis + Gyr, Axion Power International, Samsung SDI, BYD, ABB, Itron, LG Chem, Sensus, Solar Grid Storage LLC, Bosch, Siemens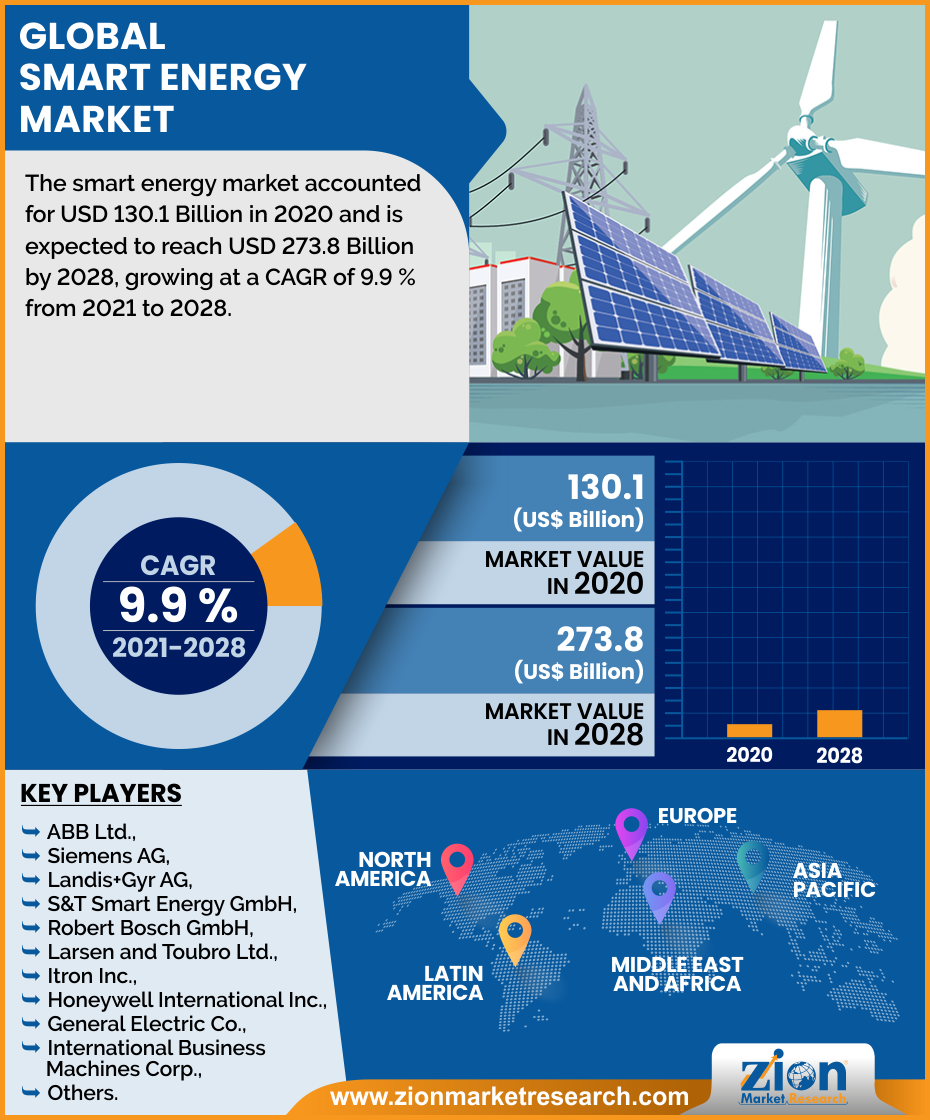 Growth Factors
There is a rapid rise in the smart energy industry around the world. Matching supply and demand and incorporating more renewable sources of energy, such as solar and wind, are both made possible by the smart energy systems. It's a way to generate power while simultaneously reducing pollution and carbon dioxide emissions. The global market is increasing rapidly due to a number of causes, including rising environmental concerns, a greater need for renewable energy sources, and rising investments in intelligent energy systems. Smart grid technology is also the subject of a substantial investment because of the many advantages it offers. Reduced electricity consumption during peak times helps keep costs down, but that's not all.
An Overview of Product Segmentation
In 2020, the smart grid market was worth about $34 billion. Profits have increased significantly because of the smart grid. In order to facilitate the bidirectional flow of electricity and data, a frequent initial step in the implementation of a smart grid is the installation of smart meters. The usage of distributed energy systems in homes and businesses, as well as the growing interest in dynamic or real-time pricing, are both contributing factors.
Analysis of the End User Market
The industrial sector accounted for the largest revenue share and market growth due to the increased demand for smart energy in energy-intensive industrial sectors, where the smart energy system helps to reduce energy costs and improve the company's ecological profile, and feedback scheduling.
The smart energy market is segmented as follows:    
 By Product
Smart Grid
Digital Oilfield
Smart Solar
Home Energy Management System
 By End Use
 Residential
 Industrial
Commercial